Jai Jawan, Jai Kisan. Jai Jawan, Jai Kisan, Jai Vigyan. Garibi Hatao. Ek Sherni, Sau Langur, Chimkaglur,Chuimkaglur. Jab Tak Suraj Chand Rahega, Indira Tera Naam Rahega. Bari Bari Sabki Bari, Abki Bari Atal Bihari. Jancha, Parkha, Khara. Congress Ka Haath, Aam Aadmi ke Saath. India Shining. Har Haath Shakti, Har Haath Tarakki................
IT HAPPENS ONLY IN INDIA!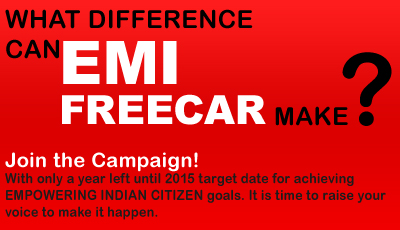 With the elections round the corner, today the same young generation is resentful. There is an 'Indian spring' thanks to the internet and social media and the CITIZEN is its major beneficiary. In the coming period the gains of the political parties will rest significantly on the appeal they make to these citizens.

EMIfreecar.com is the brainchild of a similar category citizen of India who dares to dream to help fellow citizens through the concept. We are representing the 'THINKING CITIZEN' of India.

We remember that when the cell phone arrived in India in the mid-90s, only some could see the possibility of that initially expensive device fundamentally changing the life of the common man one day by providing him instant connectivity with the world around him. The mason, the electrician and the vegetable vendor could use time as a resource and increase their earnings, and also be on the general information grid that had eluded them earlier.

The expectations of the people at the lower rungs of economy from those who ruled them began rising in the process. Political parties in India have begun forming their poll strategies well ahead of the 2014 general elections, and they all seem to want to project themselves as representatives of the common man ALIAS the citizen of India.

It is not yet certain what kind of numbers the coming General Election will throw up considering that the voter-ruler relationships in the rural heartland that was still a major playground for politics were conditioned by factors of caste, community and region.
Thus this call is to all the parties working towards the glory of the common man to join hands and support EMIfreecar.com in its mission to HELP THE CITIZENS!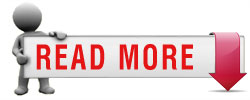 Letter to the Advertisers
Letter to the Media Houses
Letter to all Political Parties