How The World Is Taking It?
Call it Car wrapping, Car ads, or describe it formally as Mobile advertisement, this Word isn't new as it had already been incorporated everywhere and If talked about what's in it, outside India, well- it's on fire!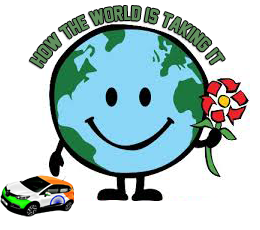 Mobile Advertisement- the better way of Advertising
Whenever we, as common people come through the word "Advertisements"-we have usually formed an image in our mind of boring newspaper or hoardings that are quite misleading. While watching Television; break- ads from which we normally switch over to other channels for something more interesting.
Well what do you think could be more absorbing than that?
OR IF SAID
What if Advertisements get a whole new medium which will be- New, Already Hot In foreign, and of course Attention-grabbing!
And our result will conclude with, Moving Ads , Mobile Advertisement, Outdoor advertisement, Out Of Home advertisement (OOH) and last but not least we call it Direct Marketing.
Effectiveness:
Industry analysts, researchers, trade representatives-have examined the efficiency of mobile advertising.
Outdoor Advertising Magazine said that outdoor mobile media billboards have a 97% recall rate,
While 99% of study respondents thought mobile advertising is more effective than traditional outdoor advertising!
Product Acceptance and Research said 94% of respondents recalled seeing the Mobile Billboard,
With 80% recalling the specific advertisement, this medium resulted in growth in sales, thereby leading to huge profits.
Wrapping automobiles or applying car graphics on them involves much less expense than any other advertisement mediums, yet it provides consumers with the same, even better- lasting impact.
Trend in Overseas
This concept is already selling like hotcakes in the countries overseas but we in India are the first to break the ice for all the car dreamers. We have the best offer that is indeed beneficial for those who are planning to buy a car, for advertisers willing to experiment the path-breaking concept of mobile advertising and our franchises.

With the foremost idea of EMIfreecar.com, we are taking a step forward from our overseas relations,giving an opportunity to young entrepreneurs to brainstorm their business ideas. We believe in Quality no matter if it's new, As Someone has to lead then why not us? And so it will be….!!